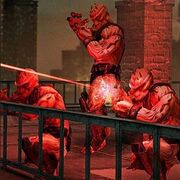 The
Zin
are the primary antagonists of
Saint's Row IV.
They are an alien race from
Zin
, a planet from which their name is derived from. They kidnap the best and brightest from other planets, who are then placed in simulations, such as Simulation 31, which are designed to mentally break them. They are then made into members of the
Zin Empire
. 
Appearance
Edit
The Zin bear a strong resemblance to the Rakghouls and Nekghouls from the Star Wars franchise, most likely as one of many pop-culture references found throughout the series. They are a humanoid species, very similar in appearance to Caucasian humans. They're bald, with small spikes on their head and arms. They usually wear very little armour, although high-ranking members of the race, such as Emperor Zinyak are generally seen fully armoured. This could mean either a currency or caste system in the Zin Empire, with either the rich or the nobles (in either case, Zinyak) getting access to better gear.
NOTE: This list only shows weapons and vehicles of definite Zin origin. All Zin weapons are referred to by their main skin's name, rather than their actual name. e.g. The Alien Rifle is referred to as the Dominator.
Community content is available under
CC-BY-SA
unless otherwise noted.