(Updated as of 22/06/2019)

Hello AvP fans, this post contains a comprehensive list of the equipment, armour, weapon systems (including attachments, modifications and ammunition) and vehicles used by the United States Colonial Marine Corps that I've adapted from an article on Xenopaedia featuring this list I created.
I have categorised the contents of this list in accordance with contemporary military classification to most effectively portray the capabilities of the USCM as well as assist those interested in developing any kind of fan RPG etc. or even professional game developers and I am particularly interested in any comments regarding the classification and comprehensiveness of this list.
And be sure to see my speculation on Xenomorph hive dynamics and cultural analysis on the Yautja, also any anime/mecha fans reading this might be interested in my posts regarding topics from the Gundam and Zoids franchises.
Note that only standard issue equipment and service weapons are listed here, non-standard equipment such as personal firearms e.g. PFC Vasquez's Smith & Wesson Model 39 sidearm are not included.

Abridged contents: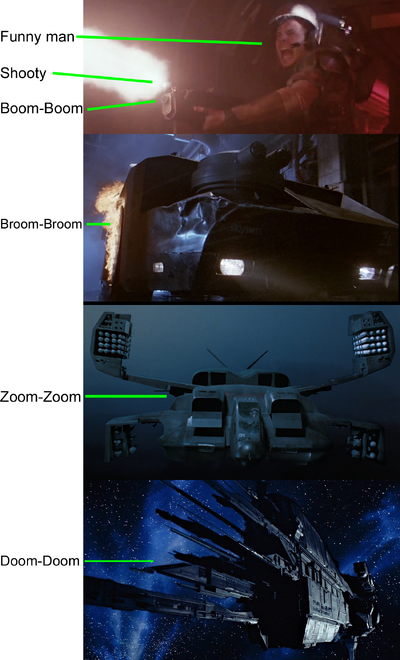 Personal Armour and Equipment
Body armour
M3 Pattern Personal Armour

Features:

Remote biomonitors — These monitor the wearer's life signs, including heart-rate and breathing which are relayed by the

PDT

to the tactical command centre

Compatibility with the

IRC Mk.50 Compression suit

Variants:

Standard

Light-weight — Greater running speed

Reinforced — Better protection from physical damage

Acid-resistant — Provides resistance to Xenomorph blood

M4X Armour —

Light resistance to Xenomorph blood

Apesuit —

Effective protection from Xenomorph blood and Facehuggers

Class VII Spidersilk Armour
Helmets
M10 Pattern Ballistic Helmet

Features:

PDT

(Personal Data Transmitter)

Integrated full-motion tactical video camera

Audio microphone

IFF (Identification Friend or Foe transmitter)

Passive flip-down infrared sight — This sight displays infrared images from the thermal imaging facility built into the tactical camera, superimposing them over the background as a head-up display

Mk.30 tactical helmet

Features:

Flip-down eyepiece display — Displays tactical data e.g. The wearer could look out of the UD-4L's cockpit at a target and the ship's Target Identification and Acquisition System would show it's profile on the eyepiece screen, which change to tracking or launch functions after flipping the fire control switch
Load-bearing equipment
IMP (Individual Marine Pack)
Camouflage clothing
Ghillie Suit

Features:

Portable heat sink pack — This optional attachment helps regulate the suits thermal signature
Environment suits
Aerial mobility
Tools
Personnel Weapon Systems
Mêlée weapons
Small arms
Pistols
Machine pistols
88 Mod 4 Combat Pistol —

w/Full-Auto Action Replacement

Attachments:

S91 Dot Reflex Sight

C43 Extended Magazine

Modifications:

Full-Auto Action Replacement

VP70
VP78 Pistol
Submachine guns
Carbines
M41A Pulse Rifle MK2

Attachments:

Modifications:

Ammunition

M41E

Ammunition:

10mm caseless anti-personnel rounds (100 rounds per magazine)

10mm caseless armour-piercing rounds (100 rounds per magazine)

10mm caseless rainbow tracer rounds (75 rounds per magazine)
Assault rifles
Battle rifles
Sniper rifles
Shotguns
Light weapons
Machine guns
Anti-materiel rifles
Railguns
M44 Sledgehammer Railgun

Ammunition:

Hyperkinetic slugs (uses a controlled fusion reaction to melt a channel through obstacles)

WY-102 Railgun

Ammunition:

High-explosive armour-piercing rifle sabots
Hand grenades
Grenade launchers
Mortars
Anti-tank weapons
MANPADS (man-portable air-defense systems)
SIM-18 Hornet

Ammunition:

Hypervelocity surface-to-air guided missile
Land mines
Directional mine
Static mine
M5 Bounding Mine
Proximity detonated anti-personnel mines
Sentry guns
Prototype weapon systems
Flamethrowers
Electroshock weapons
21S Arc Round launcher
G2 Electroshock Grenade
Electrolaser —

DEW

Ammunition:

Electrically conductive LIPC (laser-induced plasma channel)
Sonic weapons
NNEMP (Non-nuclear electromagnetic pulse) weapons
M92 Grenade Launcher

Ammunition:

Timed fuse grenades

Proximity mines

EMP grenades

Spider mines
DEWs (Directed-energy weapons)
M78 PIG
UA 571-D Automated Sentry Gun
XM99A Phased Plasma Pulse Rifle
Electrolaser

Ammunition:

Electrically conductive LIPC (laser-induced plasma channel)/span>
Chemical weapons
Radiological weapons
M57D 'Dirty' Smartgun

Ammunition:

"Rounds that shatter into hundreds of radioactive splinters inside their target"
Other weapon systems
Emplaced Weapons
CIWS
Turrets
Air Defense Artillery

Variants:

M579

— 20mm quad rotary cannon system, can track and defeat hypervelocity targets at ranges of up to 1,500 m using armour-piercing and HE shells

M270

— Phased plasma gun array, can destroy artillery shells in mid-flight

M820

— Rapid-pulsing free-electron 40 mW laser, can also be fired on a continuous-wave "dazzle" mode to blind the optical and infrared sensors of missiles, as well as blind enemy infantry though this last use is prohibited by the Geneva Convention
Organic support weapons
Area-defence
LIM-417 Phalanx

Ammunition:

High-altitude hypervelocity surface-to-air guided missile (multi-dart kinetic penetration warhead)
Command-level support assets
ASATs (Anti-satellite weapons)
Area-defence
HIM-122 Lancer

Ammunition:

High-altitude surface-to-air guided missile (multi-warhead with 10 independently targeted warheads)
Military Vehicles and Aerospacecraft
Combat vehicles
Light attack vehicles
APCs (Armoured personnel carriers)
Command vehicles
Tanks
Mortar carriers
Self-propelled artillery
Anti-aircraft vehicles
Powered exoskeletons
VTOL vehicles
Military aerospacecraft
Dedicated re-entry vehicles
Strikeships
Gunships
Fighter aircraft
Dropships
Lift shuttles
Scout ships
Interstellar Spacecraft
Re-entry capable
Emergency escape vehicles
Troop transports
Orbital (non re-entry capable)
Rapid-response combat ships
Attack transports
Other military starships
Valley Forge

-class

Dreadnought

-class
Community content is available under
CC-BY-SA
unless otherwise noted.