VenomUltimate Venom by - Stupid Thargus

[

]
A sybiote is a living, sentient, alien organism that bonds with other living organisms in order to survive.
They make their host stronger as a distraction while they eat their host from the inside out.
The sybiotes originated from Venom. These decendents became Carnage, Shreak, Hybird, and Toxin.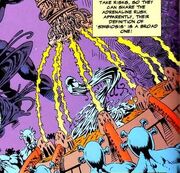 When the symbiote attached itself to Spider-Man it made him go ballistic.
Venom has often tried to eat spider mans liver.
Spider-Man used the three weaknesses of a sybiote to get venom of of him.
1. Fire - melts away at a sybiote
2. Loud Noise - the sound of a grand bell made Venom flea from its host
3. Its own children - each symbiote child is stronger then the previous and often try to kill their father thumb|300px|rightWhen Venom was defeated it joined several other hosts.
Its main host was Eddie Brock, a man who deeply hated Spider-Man.
To stop the symbiote Venom from spreading Spider- Man faked his death. Then Venom went on to San Francisco and became a hero.
But the symbiote Carnage was still evil and became a serious problem in New York city. Fortunately Toxin who was the only symbiote who could control it self destroyed Carnage.
After thousand of offsprings came ULTIMATE VENOM !