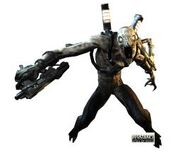 Slipskulls are a cunning and opportunistic strain of the Chimeran species who prefer to take pot-shots and make blind-siding attacks on their enemies rather than face their opponents directly. The Slipskull is a fast enemy, and have the advantage of clinging to walls. This makes the Slipskull a difficult target to hit. Their speedy and stealthy forms make them excellent scouts as well as ambushers. Once detected, it is necessary to eliminate these creatures as soon as possible before they summon reinforcements. Slipskulls appears in Resistance: Fall of Man and Resistance Retribution.
Resistance: Fall of Man
[
]
Slipskulls first appear in the level Cheshire - "No way out" after Nathan Hale got separated from Rachel Parker.
Strategy
[
]
To combat the Slipskull's great speed, use the L23 Fareye's secondary fire which is ideal in taking them down.
Slipskulls almost always stop moving in the same places, so it is easy to preempt where they are going to stop and start shooting at the player. In this instance, tagging the Slipskull with the Bullseye when they stop moving allows for a quick and easy victory.
Their own weapons, the Reaper Carbines, unlocked on the second playthrough, is also useful in tracking a Slipskull's movement.
Resistance: Retribution
[
]
Strategy
[
]
Like in Fall of Man, Slipskulls leap about and cling to walls before stopping to fire the player with its Reaper Carbines, and are often in groups of four or more.
A laser beam similar to the beam shot by the L206 LAARK's secondary fire will show the player where the Slipskull is aiming.
Notes
[
]
Richard Horvitz voiced the Slipskull but had to only do the grunts, and battle cries.
Slipskull did not appear in Resistance 2. Though in Resistance: The Gathering Storm, Slipskulls are mentioned to have been appearing during the height of the Chimeran invasion of America.
In Resistance 3, the Longlegs bears some similarities to the Slipskulls. It can be speculated that the Longlegs replaced the Slipskulls.
Slipskull were presumably predecessor of

Longlegs

.
Sources
[
]