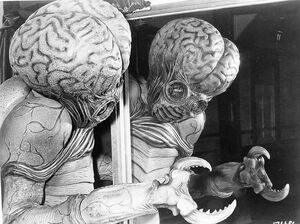 Write me a creature that thinks as well as a man, but not like a man.John W. Campbell
Sapience refers to the capacity to think and comprehend the world in an elaborated way, and to possess an elaborate sense of self-awareness as well as an elaborate capacity for reasoning and abstracting. It sets intelligent beings apart from non-sapient machines, vegetation and wildlife. In many ethical systems, it grants an individual the right to be treated as a person.
In science fiction, there has been a long and unfortunate tradition to erroneously employ the word "sentient" instead of "sapient" to refer to such beings. In reality, sentience means the capacity to feel and experience sensations, which is something most animal life possesses. Therefore, many life forms that have been referred to in fiction as "non-sentient" are actually clearly sentient, and merely non-sapient.
Additionally, the word "sophont" has been coined by Karen Anderson and adopted by other authors as an alternate synonym for "sapient".
Definition
Classification
Variable sapience
Culture and society