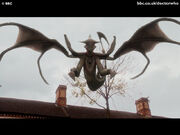 Reapers are multi-limbed, flying creatures similar to pterosaurs, with a large wingspan, sharp teeth both in the form of a beak and a secondary mouth in their torsos, coupled with a rapacious attitude. The Reapers are apparently extradimensional, materializing and dematerializing out of the space-time vortex. They are attracted to temporal paradoxes that damage time, like bacteria swarming around a wound. They then proceed to "sterilize" the wound by consuming everyone in sight.
Once in this dimension, they cannot be killed. However, they can be blocked by material barriers. The older the barriers, the more effective they are, but even the oldest of barriers cannot stop them forever. Paradoxes can also allow them to directly materialize at the spot of the paradox. If the timeline is restored, they vanish, with their actions reversed as if they had never happened.
In "Father's Day", the Doctor explained that when the Time Lords were still around, there were laws to prevent the spread of paradoxes and that such paradoxes could be repaired. This implies that the Reapers are a natural phenomenon whose manifestation could be prevented if the paradox was resolved quickly. However, with the elimination of the other Time Lords in the Time War, there was no longer any agency that could repair time.
Community content is available under
CC-BY-SA
unless otherwise noted.