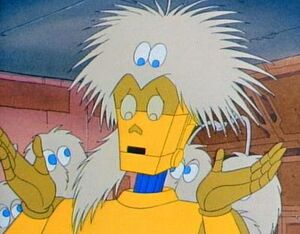 Mupples are a non-sapient species of small, furry creatures native to a galaxy far, far away. They are consumed as food and considered a prized delicacy in some planets.
Mupples are small creatures entirely covered in shaggy light-grey fur. They have two furry tentacles, a small tubular antenna on top of their heads, and a pair of large blue eyes with white sclerae.
Despite their friendly and harmless behaviour, they're prone to becoming agitated, although they can be soothed by soft music.
Appearances
Edit
Star Wars: Droids: The Adventures of R2-D2 and C-3PO, s01e10, "Tail of the Roon Comets" (1985)
This species is a reference to the Tribbles from the Star Trek episode "The Trouble with Tribbles". The scene in which C-3PO opens an overhead door on a spaceship and a bunch of Mupples fall on top of him parodies the same thing happening to Captain Kirk in that episode.
Community content is available under
CC-BY-SA
unless otherwise noted.