"And, really "Judgementites?" That was just juvenile."
―Dr. Lazarus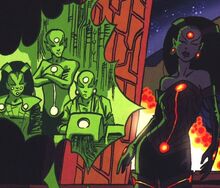 The
Judgementites
(not actual name) are the species that operates
The Judgement Ship
which is powered by their entire species confidence.
This species appears to be roughly human-sized bipeds with gray skin and pointed ears. There is not much known about their biology but there appears to be male, female, and child members of this species.
They have thus far only appeared in Galaxy Quest: Global Warming the follow-up comic to the film Galaxy Quest.
In the comic several names were suggested for the species, Fred Kwan suggested the name Judgers.
Community content is available under
CC-BY-SA
unless otherwise noted.