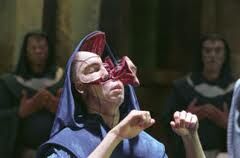 Eidelons are a formerly-highly advanced species of peaceful humanoid aliens in the Farscape universe.
Their physical appearance is similar to that of Terrans and Sebaceans apart from grooves on the face and head.
Eidelons have the ability to manipulate others through some extra-sensory means and the ability to rapidly absorb information in an extremely short amount of time, using an eye-shaped organ concealed within their heads (the reason for the grooves, as the head opens up to reveal this organ).
They are an exclusively peaceful race, believing violence to be degenerate. At the height of their power, they desired to bring peace and order to the galaxy.
The Eidelons are known to have been in existence at least 27 thousand years ago, during which time they made it their mission to bring peace and order to what they deemed to be a chaotic universe.
However, despite their peaceful overtures, they were frequently met with violence and aggression, thus leading them to the creation of the Sebaceans and the founding of the Peacekeeper Corps. This new race and institution was used not only to protect the Eidelons, but also to instigate peace through "other means".
They mysteriously disappeared several thousand years ago, leaving the Sebaceans to keep the peace.
During the finale of The Peacekeeper Wars, the Eidelons re-emerged. With the help of Crichton, they tried to end the fighting between Peacekeeper forces and the Scarran Empire (which recently and uncharacteristically began using diplomacy to claim worlds, but had since returned to simply taking them), to no avail.
The few remaining Eidelons were besieged by the Scarrans until Crichton, at the demand of the Scarran-Sebacean hybrid Scorpius, fired the wormhole weapon which ended the Peacekeeper Wars.
Community content is available under
CC-BY-SA
unless otherwise noted.