Demon (Greek: δαίμων, daimon) often denotes a malevolent entity in classical and modern cultures and religions. However, its Greek root, daimon, may not have necessarily carried any negative connotations.[5] Daimon originally implied a spirit or divine power, possibly an equivalent to the Latin word numen,[6] meaning "divinity", or a "divine presence", "divine will."[7] At the advent of Christianity, Greek and Latin concepts were paganized, or essentially, demonized.[8]
Origins
[
]
One of the most ancient written sources regarding a clash between good and evil is the Enuma Elis which recounts Mesopotamian cosmology. A great beast is described, known as Tiamat, who bears children to serve in her rebellion against Marduk (Babylonian), or EA (Sumerian). Tiamat was described as primordial chaos [9] and sometimes identified with images of a sea serpent or dragon.[10] The Enûma Elish states that Tiamat gave birth to dragons and serpents, among a more general list of monsters including scorpion men and merpeople.[11] Such iconography had impressed Greek mythology as well as eschatology in Judeo-Christian theology. It is also a deep study in demonology as well as for developing support for the ancient aliens hypothesis.
Ancient aliens
[
]
Zecharia Sitchin, an advocate of the ancient aliens hypothesis, ran with these early concepts to promote his Tiamat hypothesis which states that Nibiru collided catastrophically with a planet, Tiamat once located between Mars and Jupiter. This collision supposedly formed the planet Earth, the asteroid belt, and the comets.[12][13][14]
Popular culture
[
]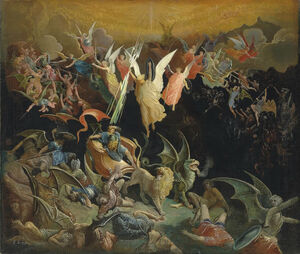 See also
[
]
Sources
[
]
Resources
[
]