inportant informatiob
ASW is for canon articles such as AVP Star wars basically aliens in film books TV and games if you wish to create your own alien please go to this wiki thankyou. --Owen1983 18:36, March 5, 2012 (UTC)
ATTENTION MEMBERS OF ASW
Please enter your thoughts and votes on User Rights. There is one application for rights! Thank you. HolbenilordTalk₪ 20:35, December 15, 2011 (UTC)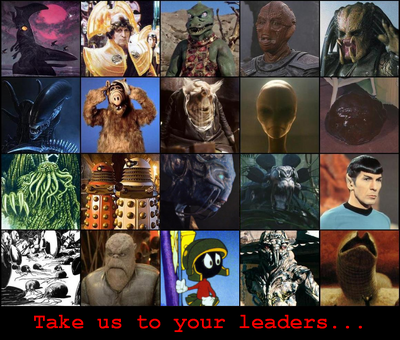 About us
Alien Species Wiki is a website containing information on any alien creature ever imagined by mankind, from Star Trek's Tribbles to Wayne Barlowe's Emperor Sea Striders. The wiki format allows anyone to freely add or edit content!
Canon and non-canon are both allowed here, as long as you keep the reader informed about whether any given information is canon or not. However, we do not allow fanon here, but instead we encourage users to add their fanon to one of our our sister projects, Alien Fanon Wiki or Multiverses wiki (more discriminating), which are specialized in dealing with it.
Alien Species Wiki's database currently have over 1000 Alien Species, plus 300 Locations, 160 Characters and 60 Affiliations and there is still MUCH to be done.
How YOU can help
Before doing anything, please read the editing conventions.
If you want to do something, but don't know what, here are some things that need to be done:
Contact the ASPF or any other user in case you need any help. We wish you a wonderful stay here on Alien Species Wiki!
Write a New Article
Before you get started, we suggest reading the About page, our rules and policies, the Manual of Style and the Layout Guide.To write a new article, just enter the article title in the box below.
PS: Use this when creating Alien Species: Template:AlienSpecies (give it a good look before doing anything), and this when creating Characters: Template:Characters.
Here are some articles that you can use as a model:
Big News
8-12-2011 Two RfA's are opened. Head over to User Rights to vote!
6-19-2011
New sister We are happy to anounce that Multverses Wiki has joined the ASW family, so please visit and make this wiki feel welcome!!
10-11-2010
The Editing conventions have undergone a major overhaul.

9-11-2010
Alien Species Wiki is remembering the World Trade Center terrorist attacks which will never be forgotten.
8-13-2010
We now have a Facebook page [1].
Alien Species Wiki gets a new look!
1-20-2010
Thanks to the hard work of Somarinoa, BlueFrackle and me this wiki is back in business Owen1983 12:04, February 3, 2010 (UTC)
Featured Article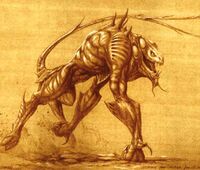 The Moorwens are a race of non-sentient or possibly semi-sentient predators of the Moorwen Planet.
Due to the bombing of their planet and subsequent hunting down of survivors, they are extinct.
For a long time, the Moorwens were the apex predators of a planet unhabited by...Read More
Related Wikis
Error: image is invalid or non-existent

Error: image is invalid or non-existent