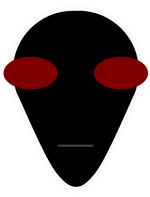 Welcome to the Alien Species Wiki
10,315 articles since we began

Alien Species Wiki is a website containing information on any alien creature ever imagined by mankind. From furballs to behemoths, from little green men to shades of blue, from mindless parasites to intergalactic empires. The wiki format allows anyone to freely add or edit content!
How YOU can help
Before doing anything, please familiarize yourself with our rules and policies.
If you want to help the wiki, but aren't sure where to start, here are some things that need to be done:
Contact the ASPF or any other user in case you need any help. We wish you a wonderful stay here on Alien Species Wiki!
Write a New Article
To write a new article, just enter the article title in the box below.
PS: Use this when creating Alien Species: Template:AlienSpecies (give it a good look before doing anything), and this when creating Characters: Template:Characters. <createbox> width=24 break=no buttonlabel=Create new article
</createbox>
Rules and warnings
Some important things that everyone should be aware of before editing:
Copy-pasting text from external sources (including other wikis) is strictly forbidden. Users who do it will be blocked immediately and copy-pasted articles will be deleted on sight. The only exception to this rule concerns a few articles shared between this wiki and our sister site.
It's also strictly forbidden to create empty blank pages, as well as to merge, split, rename or repurpose pages or reupload images without direct approval from an admin. Users who do any of these risk getting blocked, although some offenses are less serious than others and will be judged accordingly.
Fictional species are only allowed here as long as they've been featured in official, commercially-published media. Original web content is generally not allowed for this reason.
Articles should NOT be written in past tense, unless dealing with a creature that's officially extinct.
Since this wiki deals with a lot of fiction, every page risks containing spoilers. The worst cases, dealing with major plot twists, will be marked with an appropriate template.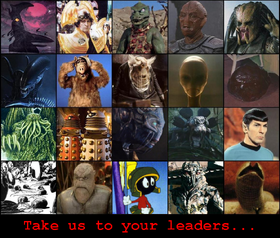 Navigation
Related Wikis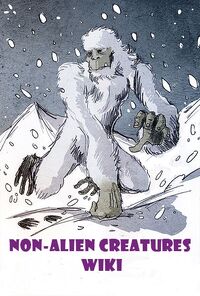 Because sometimes, our earthly neighbors can be just as strange as our celestial ones. Non-Alien Creatures Wiki is ASW's sister site, dedicated to cataloging all sorts of strange but terrestrial life forms from fiction, folklore and cryptobiology.